<<Return to Cosplay Collection >>
Winry Rockbell
Full Metal Alchemist's Personal Mechanic
So I cut my hair for this cosplay, for some reason I wanted bangs.. and I felt this would be a good cosplay to do. So I lightened my hair a bit and wore casual Winry for the day. I heard from the grapevine that guys like girls in miniskirts and combat(motorcycle) boots.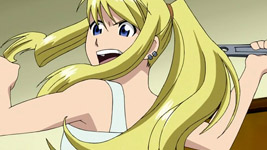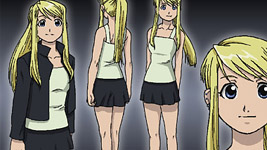 Construction Details
Cosplay - Closet cosplay all the way here!
"I'll be re-cosplaying this character, in her regular getup at some point, but this costume was really fun, easy and comfortable to wear. I really enjoyed it."
Wig – I had just recently cut bangs, and then I realized I could pull of an easy Winry. No wigs attached! I really love cosplaying without a wig...
Props – I did bring along the biggest wrench I own, although… it still wasn't that big.
Cosplay Worn @
Comicpalooza 2012
Thank you to all of the talented photographers who helped me bring this cosplay to life. Images include in this gallery are provided courtesy of the following...
©Foa Cosplay
<<Return to Cosplay Collection >>