<< Return to Cosplay Collection
Maka Albarn
'Casual Maka'
This outfit is super cute, and I couldn't do without it, so I just decided to make it anyways. It was choice 3 in my poll I had ran on my Facebook page. I had plans of wearing it on a Sunday at a con. Really, I should have known better. I did have some day dreams right after I got home though, from the convention, and decided to just do a fun photoshoot loaded with color and books.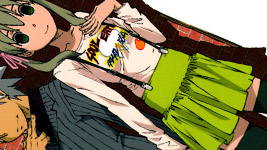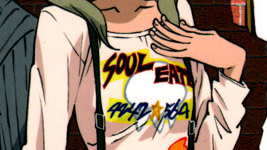 Construction Details
Cosplay - I did actually get to make most of the items in this costume, even though it was very simple. I created two skirts actually, but the second I think turned out more like the original artwork. I created the skirt by hand, since my sewing machine was unavailable. The shirt was purchased, but I created the graphic myself with Illustrator and then trasferred the design with some printer transfer paper. I also made the suspenders and hairbows.
"I got to eat so much good food during this shoot, it was probably the most fun I've had shooting a cosplay in a while."
Cosplay Worn @
A casual photoshoot @ City Center in Houston
<< Return to Cosplay Collection
Thank you to all of the talented photographers who helped me bring this cosplay to life. Images include in this gallery are provided courtesy of the following...
©Foa Cosplay | ©Mineralblu Photography