<< Return to Cosplay Collection >>
Wanda Wilson
'Lady Deadpool'
After seeking out Deadpool at all of the cons I've attened, I decided it was finally time to pay tribute to this anti-hero with my own Deadpool cosplay. Other than a quick Halloween costume, I am fairly certain this is my first comicbook character costume, and my first Marvel cosplay. The design I chose was actually from a fanart which I thought was a bit more TMNT, which just made me love it even more.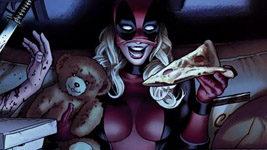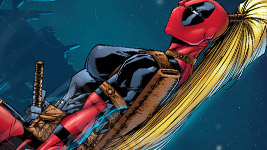 Construction Details
Cosplay - Being on a budget, and limited cosplay space/time, I decided to make my first cosplay commission. I ordered a full red suit from a basic distributer online, and then outsourced an airbrush artist locally. The man who took the job, the wonderfully talented man behind RCC Creations, did an awesome job on a short deadline. I was extremely pleased with the results, and how well he worked with me.
"I'll be wearing this cosplay several times this year, so this gallery will be updating frequently throughout the year."
Wig – I used a 2 ponytail clips, purchased from Arda wigs as the base. I styled them over a modified styrafoam sphere, with a pole stabbed through it (yes, by the end I ended up stabbing the bitch through, because I was having a hard time with it). Trimmed and styled accordingly. The pole was attached to a base, and I wore it with a wig cap to help distrube the weight of the hair, to stand up nice and tall on my head without sagging.
Props – I bought the belt and the guns, but I made the Swords and Sheaths - both with Sintra. The Swords were painted with my normal method, and the sheath was covered with a nice leather like material. I also made a few fun signs that I carried around for yuks.
Cosplay Worn @
Katsucon 2013
<< Return to Cosplay Collection >>
Thank you to all of the talented photographers who helped me bring this cosplay to life. Images include in this gallery are provided courtesy of the following...
©Foa Cosplay | ©DROO Photography | Mineralblu Photography