<<Return to Cosplay Collection >>
Spitfire
Captain of the Wonderbolts!
Talk about last minute choices! I made this cosplay in less than a day, because I just wanted to bring something new to Akon23. After I looked through my supplies, and judged the workload, I figured… heck, I can do a Spitfire cosplay no problem. And that's what it was, not a problem, just a little bit of work and running, not too bad.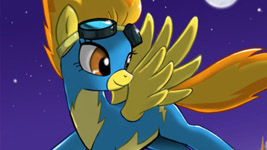 Construction Details
Cosplay - I used an old navy engineers suit and added on the details with some heat and bond. Even the Wonderbolts cutiemark on the behind!
"Very fun cosplay, and I finally got to meet up with some pony people, that was the best part for sure. I can't wait for my next Pony cosplay!"
Wig – Two wigs put together to get the yellow/orange combo. It was pretty simple in design. I styled it upside down to get the best gravity defying look.
Props – Wings and Ears made by me, with some craft foam and sculpey. I won't be making ears that way anymore. From now on, Sintra Ears forever!
Cosplay Worn @
Akon 23
Thank you to all of the talented photographers who helped me bring this cosplay to life. Images include in this gallery are provided courtesy of the following...
©Foa Cosplay | ©Dinnerfortwo Photography | ©FlimShooter
<<Return to Cosplay Collection >>