<<Return to Cosplay Collection >>
Celty Sturluson
'The Black Rider'
Cosplay Description - From a daydream into reality, this cosplay was project that was just waiting to happen. This simple cosplay has been riding in the back of my mind for the past four months, and when the time finally came, the support from my friends and followers rushed in like crazy. With my naked EX500R to zoom around town, my Celty cosplay is complete.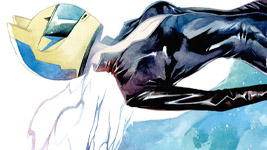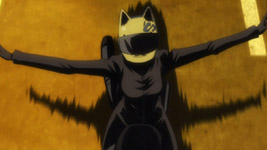 Cosplay Update:
11-03-2012
Finally getting to update this page with some content. I'm sure everyone was just WAITING for this to happen. So I've included a bit of WIP and of course the great photos taken by Lemon-ikon photography. I've got quite a few pictures from another photographer, which I hope to include in the near future. And even more fun to include is that I was asked to use this cosplay for a promo video for one of my favorite conventions, Anime Matsuri. They asked me last minute to go along with another motorcycle cosplay they were including, and I was very excited to say yes!. When that is up, I'll be sure to post up a video!
With all of the attention this costume is getting, I belive I'll be working on a more fitting verion, with a smaller helmet shell base, and making a more accurage bodysuit. Heck, maybe out of leather! Probably not though! Lol! Anyways, this cosplay has been a real pleasure, and I am so happy with the response it has gotten.
Cosplay Update:
9-25-2012
I managed to wrap up this cosplay for a party on this past sunday, I'll include a few pictures from that party very soon! I didn't really care for the final product on the helmet, so if I have time I'll be correcting some flaws in the body work, and also redoing the entire paint job. The tape I used didn't work very well in sealing off the areas I was painting, and left little fuzzy marks all over the lines between the yellow and blue. I even have good tape just for that, and didn't think to use it. >.< Anyways - I'll have some better pictures to include by the end of October when I do my photoshoots at Onicon!
Cosplay Update:
9-19-2012
I finished the shape of the ears for the helmet and got my bodysuit in. Sadly it doesn't quite fit, so I'll need to modify it. I've put this cosplay otherwise on hold until Princess Celestia is completed though. But they are both expected to be done in the next few weeks. I'm really looking forwad to getting some pictures with my bike with this cosplay. Paint and everything has already been purchased, but I need more sand paper /makes note.
Construction Details
Cosplay - Pretty simple here, bought a body suit and altered it to fit. Nothing special.
"This cosplay takes 10 minutes to put on; Fastest Cosplay Ever!"
Props – For Celty's helment I used my old HJC shell. I directly added on the ears, which I made from Sintra, and then used Bondo to fill in the gaps. I painted the helmet using Krylon Plastic Fusion and then a clear coat. This helmet is actually pretty ugly up close, so I am hoping to remake once I have a larger workspace.
Thank you to all of the talented photographers who helped me bring this cosplay to life. Images include in this gallery are provided courtesy of the following...
©Foa Cosplay | ©Lemon-ikon Photograph | ©Sec-C Cosplay | ©Vodka Photos | MyHackrifice Photography | Sun Cosplay
<<Return to Cosplay Collection >>