<<Return to Cosplay Collection >>
Pandora
Guardian of Hades' soul
I haven't actually watched Saint Seiya, and I don't know if I ever will. I just haven't had the time, and when I tried watching the older Saint Seiya anime, it wasn't something I could get into. Though, I've heard lost canvas is much better.

But again, I got into a group cosplay as Pandora, and fell in love with this outfit. It just… I don't know, I just loved it. That slit in the skirt, and the armor… beautiful. I put my mind to it, and that was the end. I had to do that costume. I wanted to do purple armor though, as that is what the splash art looked like, but everyone told me to go with the dark silver. It ended up this dark grey color, but oh well… it was still very pretty.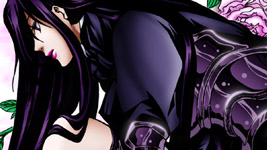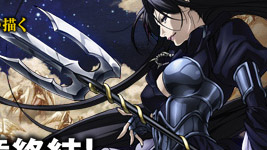 Construction Details
Cosplay - So the dress was drafted by me, the concept was really simple and gave me a chance to look at some different sleeve designs. I picked this super huge mutton sleeve, that I think could have been bigger, but it worked out.
"This was my first real cosplay that I did from head to toe, and I am extremely proud of it. It was sort of like… yes, I can do this cosplay thing on my own. At Akon I nearly tore it to shreds as I attempted to put the cosplay on outside in the heat of summer in Dallas Texas. I was so mad and frustrated, due to the heat, I about just left the con."
Wig – I think that I reused Orochimaru's wig for this one. Just a bit of styling, but I should get a new black wig for this cosplay. I could see something like this working really well for her (minus the curls).
Props – The armor for this cosplay was made entirely of Sintra, and let me just say… I learned a LOT on this project. Afterwards I just decided I wanted to do a full Sintra tutorial. The chest piece is certainly one of my favorite pieces I've made so far.
NOTICEI am actively looking for a photographer willing to re-shoot this cosplay. Contact me if you're an active cosplay photographer, and might be interested.
Cosplay Worn @
Anime Matsuri 2012
Akon 23 (for like… an hour xD)
Cosplay Day Out 2012
Guest Star: Marikasan as "Hades / Alone"
Thank you to all of the talented photographers who helped me bring this cosplay to life. Images include in this gallery are provided courtesy of the following...
©Foa Cosplay | ©Sayuri Photography | ©FallingFeathers
<<Return to Cosplay Collection >>