<<Return to Cosplay Collection >>
Kisaragi Quon
'Quon al Padis'
My dear Quon, from my favorite anime, RahXephon. I couldn't wait to make this cosplay, and had actually began working on it while I was working on Deidara. There was a lot of research involved on this character, I was so dead set on getting all of the details perfect, that I re-watched the show and even learned of an extra episode which I had never seen before! I was so surprised by that. Anyways, this cosplay is certain in my top 5 all time favorites, and I was very proud of the outcome.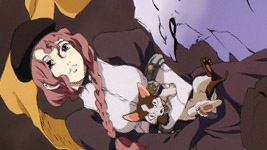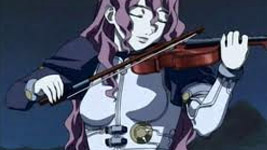 Construction Details
Cosplay - The dress was made by Maria, when we were in FoxyCosplay, when I made some slight modifications to the sleeve with some piping and wiring.
"With this cosplay, it was funny, I wanted to BE Quon. Don't get me wrong, there is nothing wrong with RP, but I don't RP. I dress up because I like to dress up, and that's about it. So the fact that I felt this way, it was sort of out of the ordinary. And I loved it. Still do…"
Wig – I used a 54in Pink curly wig, which I braided and trimmed up the bangs. It was actually a re-used wig from another cosplay that I didn't feature on this page, since I don't really have any good pictures of it.
Props – Quon's vest was made out of Wonderflex – you can see some of the construction details here. One day I might write up the final… Anyways, the main research went into this portion of the cosplay, as I wanted to make sure it looked and felt like Quon's vest. Arm and wrist bands and Leg strap were made of Sculpey. The umbrella, Beret, and Shoes were purchased.
Cosplay Worn @
Comicpalooza 2011
Akon 21 2011
Thank you to all of the talented photographers who helped me bring this cosplay to life. Images include in this gallery are provided courtesy of the following...
©Foa Cosplay | Team Zhang
<<Return to Cosplay Collection >>