<<Return to Cosplay Collection >>
Lan Fan
Prince Ling's Personal Bodyguard
This cosplay was supposed to just be simple and comfortable. Well it was simple, comfortable? Sort of… it was really hot… Darn masks, and I think I was creeping people out with the mask on. So the second time I wore it I wore the mask on my shoulder.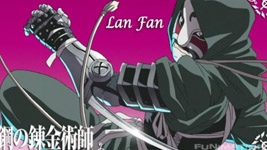 Construction Details
Cosplay - Pretty simple, I bought a pair of pants for this costume. I added a cowl to a top, and voilà, I had a cosplay.
"Fun, comfortable cosplay, when you live in Ohio or stay in air-conditioning."
Wig – Just a black wig clip and some black hairspray (which took 3 days to full wash out, and got everywhere!)
Props – The automail arm was another Sintra project. It was fun times, but there isn't too much to say, you can see a full write up on how I work with sintra here.
Cosplay Worn @
San Japan Mach 5
Matsuricon 2012
Thank you to all of the talented photographers who helped me bring this cosplay to life. Images include in this gallery are provided courtesy of the following...
©Foa Cosplay | ©Dinnerfortwo Photography | ©CT Graphy
<<Return to Cosplay Collection >>